I have made a few decisions for my kitchen update. And with decisions comes the fun part...shopping and purchasing!
We have purchased a Houzer Eston Series undermount sink. This thing is 18 gauge stainless steel and 9"deep. The one we have now is only 5" deep. This doesn't make me jump up and down to wash the dishes by any means, but the extra depth will be welcomed!
The faucet we purchased is a Giagni Fresco stainless steel pull down faucet. It comes with a matching soap dispenser, but we have decided not to install the soap dispenser. I read multiply reviews for different brands of soap dispensers and none of them seemed to last. People were complaining about having to replace them every few years/months. I am worried that overtime it will break and I will be left with 1.) A useless soap dispenser 2.) An empty hole in my counter top if I decide to remove it.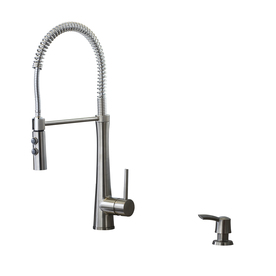 We are in the process of having our counter tops replaced. We took advantage of a Home Depot Labor Day sale. 10% off any special order counter top and labor. They also gave us the "5% Lowe's match" discount after some persuasion. We have chosen Corian in Glacier White.
(image from HERE)
I know what you are thinking...WHITE? ARE YOU CRAZY? The answer is, yes, we are going with white. No, we are not crazy. Let me tell you why.
Corian is nonporous, so stains cant penetrate it. Even if there was a hidden spot of something (lets say spaghetti sauce) that didn't get wiped up right away, it can still be scrubbed off. Lets say, I spilled my wine and some went under the microwave and sat there for days, weeks, even months and caused some discoloration, it can be stripped out with a water & bleach concoction. Corian is white all the way through the counter, so if we meet a spot we cant remove, it can be lightly sanded out.
Having laminate, we have always been in the habit of keeping hot things on the stove or a trivet. We always use a cutting board when chopping things so I know those wont be issues for us. We don't have children to damage them and our dogs are not allowed in our kitchen (until we are asleep, and they sneak in looking for crumbs.) I have read great reviews on them from people who have had them for 5+ years so we think they will be the perfect fit for us.
I was looking for a fun pendant light to go above my kitchen window. I found quite a few I loved but when I took the light down to paint, I discovered this little problem.
There is a ginormous hole for the lighting box fixture that is already in place. The top of a pendant light would not cover this without some rewiring and drywall installed. That's a road I don't really want to go down, and the more I thought about it, the more I didn't like the idea of something hanging down blocking my view out the window.
So the old light is staying. But I did freshen her up with a new coat of white paint. I know, its nothing fancy and still has an 80's vibe, but I'm hoping it will blend in and not be noticeable.
We have also picked our cabinet colors. The tops will be going Olympic One True White in a satin finish. The great thing about this paint is 1.) it is paint & primer in one (even though Ill probably end up using a separate primer to increase durability) 2.) its scrubbable and durable 3.) it has a mildew resistant coating 4.) life time warranty 5.) low VOC 6.) it is acrylic formulated for better durability and adhesion.
For the tuxedo look, we are painting the lower cabinets Olympic One Volcanic Ash in a satin finish.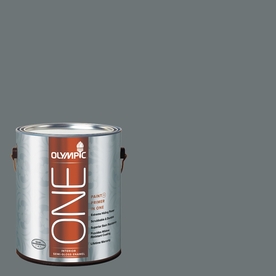 We have purchased the Duluth Pull from Restoration Hardware for the drawers. I am still on the hunt for knobs to go on the cabinet doors.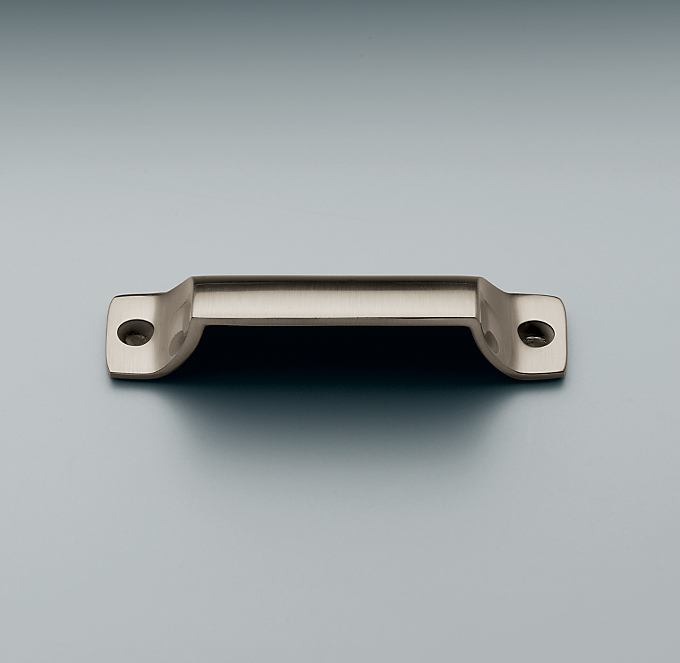 We picked up A Samsung Over-the-Range Microwave on sale at Best Buy over the Labor Day weekend. The microwave we have now is on the counter and wasting valuable space.
So that is what we have going on so far. As soon as the counter top is installed I can move onto painting the cabinets, installing the hardware and the tile back splash. There is a light at the end of this long, never ending tunnel.
I hope you have a great week and weekend! We will be busy installing our flooring this weekend. Cant wait to end this concrete living!